Sadly another weekend recap. I feel like all I do is look forward to the weekends and then they are over in an instant! I took a half day on Friday and took Hunter along with his buddy Evan to the mall and the movies. We grabbed lunch together and they walked around a bit so I went and hung out with my friend Megan while she was getting her hair done. I met the boys outside the movie theater about 15 minutes prior to the start of the movie. After rushing around the last time when we saw Limitless, I knew I wanted to get there in enough time to watch the previews.
This is when my embarrassing moment started...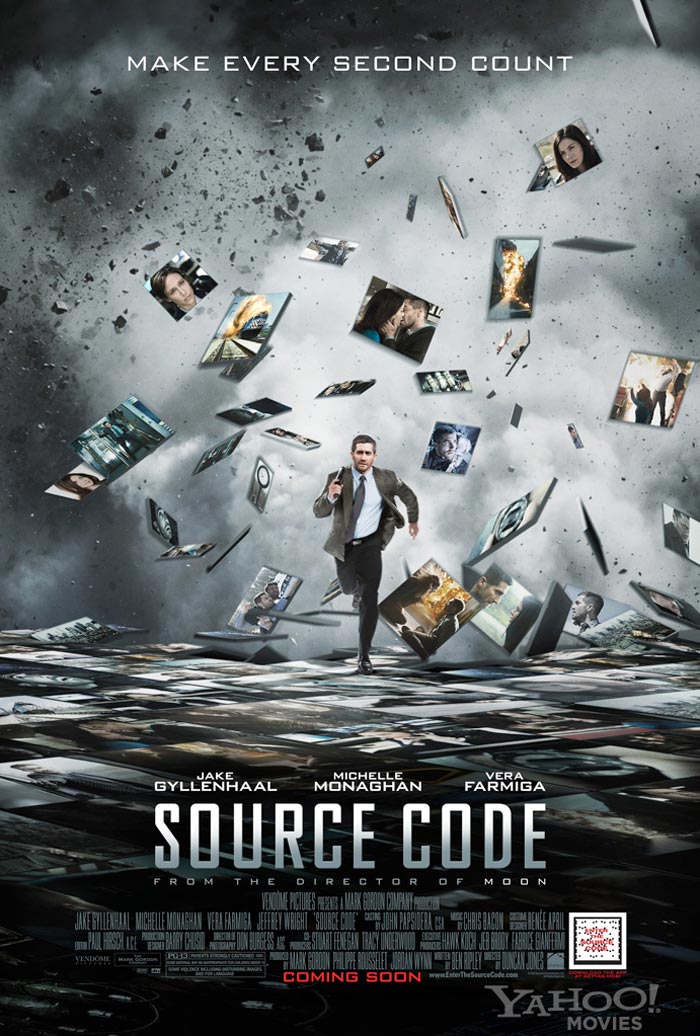 We were watching the movie and I realized that eating at a certain food destination in the mall does not agree with me. About half way through the movie, I realized I needed to leave and go to the bathroom. I have been looking forward to seeing Source Code since
November
when I first saw the previews for it, so didn't want to have to get up during the middle but I knew I'd never last during the entire movie. So- after looking around the theater, I saw two exits. Figured I'd go out the exit closest to where I was sitting. I went out and saw that it lead me to a blank hall. Shit. wrong door. Ok- no problem. Go back in to the theater. Shit- door locked. Ok- what do I do? I see another door to the theater next to ours and tried opening it. Shit- locked again. Ok- no problem. I proceed to walk down this little mini hall and go through another door and realize its a dead end. I'm guessing that its an unfinished area of dry wall behind the theater that goes somewhere I believe as an emergency exit and out the building completely. I didn't want to attempt anything so went back to the little hall between the two theaters. I called Hunter- who of course- follows the rules about no cell phones and had his phone turned off. So- I googled the phone number to the movie theater and called them to tell them I was trapped between the two theaters. They sent a manager to get me. So- she finally showed up- I still had to go to the bathroom, so I walked with her through our theater to get out. Hunter saw me walking across and thought I got in trouble and was being escorted out. So embarrassing. I did my thing and by the time I finally got back to my seat after the whole locked out ordeal, missed about 15 minutes of the movie and a huge important part of it as well. I'm definitely going to have to see it again.
I think I am still slightly traumatized.
Saturday had us running errands. The kids played outside a bit and then we went to Sam's Club... Quinlin loves sample day but it makes it hard to shop there. We came home and then our sitter came over and Sean and I headed out for our friend Jimmy's birthday. We went to Fatheads for dinner. It was a 2 hour wait so we all hung at the bar until our table was ready.
It was a great time. So fun when all the guys get together- and then it becomes a competition of who can be funnier and who can be louder. Everyone attempting to outdo the other one. After Fatheads, we went bowling. Sean won- of course.
Sunday we played around the house a bit
and then finally went to my brother in law's house where I got to meet my new nephew Charlie!!!
the kids had a blast together playing with all of Gracie's toys
and Charlie just hung out
we tried to get a group picture, but it wasn't working.
The kids had a great time playing... I can't wait to get them together soon! Easter isn't that far away so they can all play together then!
And now on to the workweek. I'm waiting for my daycare to call me about Quinlin... don't have a good feeling about her health today. We'll see how much I can get done at work today before they call me to come get her. Eek!